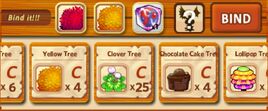 The rank of the tree you get will always be the same or higher than the two trees used to bind, never lower.
You can't bind two A class trees and get a C class but you can bind two C class trees and get an A class one.
The two trees you use will disappear after you bind and it is impossible to get the same tree back that you used in a bind.
A Red Tree + a Yellow Tree bind will have a chance to make any other three in the game except those two.
Each time you bind you will consume one Magic Cube.
Ad blocker interference detected!
Wikia is a free-to-use site that makes money from advertising. We have a modified experience for viewers using ad blockers

Wikia is not accessible if you've made further modifications. Remove the custom ad blocker rule(s) and the page will load as expected.