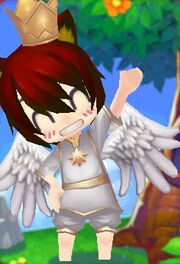 Welcome to the Magic Tree Drawing Event! Looking for people who loves to draw and want you to submit a fan art related to Magic Tree!
This will be done anonymously. Why is this anonymous? I would like to keep it fair for everyone so no one votes for their friends, but their drawings.  I will reveal the owner's names of the drawing if they want me to.
Remember, this is not a contest. If you don't win, it doesn't mean your drawing is bad in anyway, so do not take that into heart. I hope that this will be a fun event and I hope everyone has fun sharing and looking at other people's drawings.
Rules for Submitters
Draw anything that is related to Magic Tree and only one drawing per person. [If you have more than one, you can put them on one picture/paper/whatever you're using].

Since this is anonymous, you must somehow get in touch with me, MikhailKun ingame, hub, or the wiki.

In order for this to stay anonymous, you must send me the picture or the link to it via hub, Magic Tree, or wiki pm.

If you cannot do any of these, please comment below so we can figure something out.

Please do not try to tell your friends to vote for you, I hope this will not be a problem at all.
Rules for Voters
You do not need to comment anything at all, but please be respectful to the drawings and their owner because they worked hard on them.

Vote for what you like, don't be influenced by other votes.
Enjoy other people's drawings and their hardwork.
Prizes
You must read this in order to understand how the prizes will work.  There will be a total of five different sets the winners can choose from, but there will only be three winners.  First place can choose what set they want first, then second place, then third.  I made five sets, so the third player can still have a little variety in what they choose because once a set is chosen, it cannot be picked by other winners.
Sets
Set1 - All the collections needed to make the costume Jester Elf +Yellow Lion
Set2 - All the collections needed to make the costume Avari + Yellow Lion
Set3 - All the collections needed to make the costume Eldar + Yellow Lion
Set4 - All the collections needed to make the costume Sweetie + Yellow Lion
Set5 - All the collections needed to make the costume Gryupain + Yellow Lion
* Additional prizes may be added while this event is going on by either me, or other donations made from other players.
Ad blocker interference detected!
Wikia is a free-to-use site that makes money from advertising. We have a modified experience for viewers using ad blockers

Wikia is not accessible if you've made further modifications. Remove the custom ad blocker rule(s) and the page will load as expected.