The Hera Tree is a
Magic Tree
inspired by Greek mythology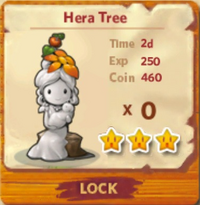 . The tree resembles a statue of the seated Hera, adorned with what is presumably the pomegranate fruit and its flower. In her arms, she holds an unidentified child.
Other trees sharing this theme of Greek mythology include the Zeus Tree, the Poseidon Tree, the Athena Tree, and the Hephaestus Tree.
Tree Information
Recipe: Crown Seed + Wave Seed + Pink Leaf Seed
Harvesting
Harvesting Time: 2 days
Exp Drop: 250
Coin Drop: 460
Seed Drop: Tiara Seed, Grade A
Ad blocker interference detected!
Wikia is a free-to-use site that makes money from advertising. We have a modified experience for viewers using ad blockers

Wikia is not accessible if you've made further modifications. Remove the custom ad blocker rule(s) and the page will load as expected.